At least 12 people are dead after a 6.8 magnitude earthquake hit the region around Ecuador's second-largest city, Guayaquil, while a child has also died in Peru.
The quake was centred around 50 miles (80km) south of Guayaquil, according to the US Geological Survey.
It was also felt as far away as northern Peru, where the country's Prime Minister, Alberto Otárola, said a 4-year-old girl had died after the roof of her home collapsed in the Tumbes region – on the border with Ecuador.
Residents inside the city of Guayaquil – which sits around 170 miles (270km) southwest of Ecuador's capital Quito – reported that objects had fallen inside their homes during the tremor.
Footage shared on social media showed panicked residents rushing onto the streets.
Ecuador's President Guillermo Lasso tweeted a message urging residents to stay calm before announcing that the disaster had killed 12 people.
Ecuador's emergency response agency, the Risk Management Secretariat, said one person had died in the Andean community of Cuenca.
The victim was said to be a passenger in a vehicle trapped under a collapsed house.
Ecuador's Risk Management Secretary, Cristian Torres, said in a radio victim that 11 of the victims died in the coastal state of El Oro.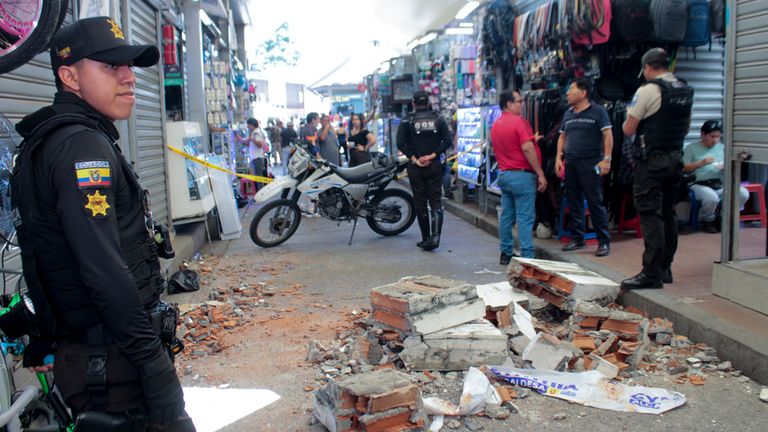 In the community of Machala, a number of people were trapped in a two-storey house after it collapsed.
A pier also sank in Machala.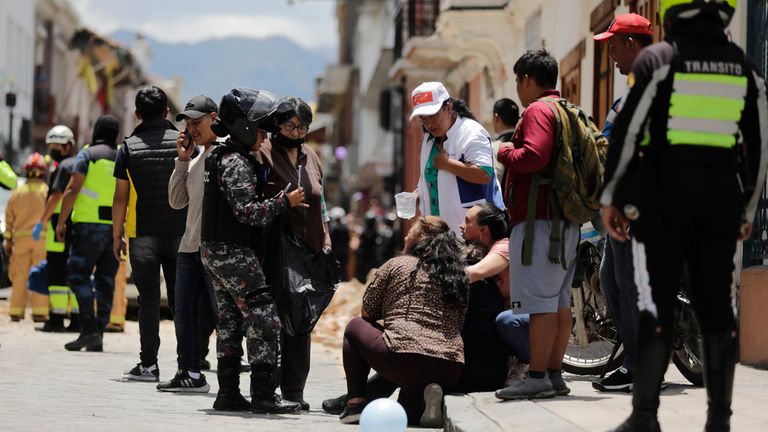 Rescue work was made more difficult due to downed power lines that affected phone and electricity.
A clip posted online showed three TV presenters darting from their studio desks as things around them started to shake.
One presenter suggested the show would go to an ad break, while another repeated: "My God, my God."
Read more:
Five killed after flooding in earthquake-hit regions in Turkey
Ecuador fears endangered Galapagos tortoises were hunted and slaughtered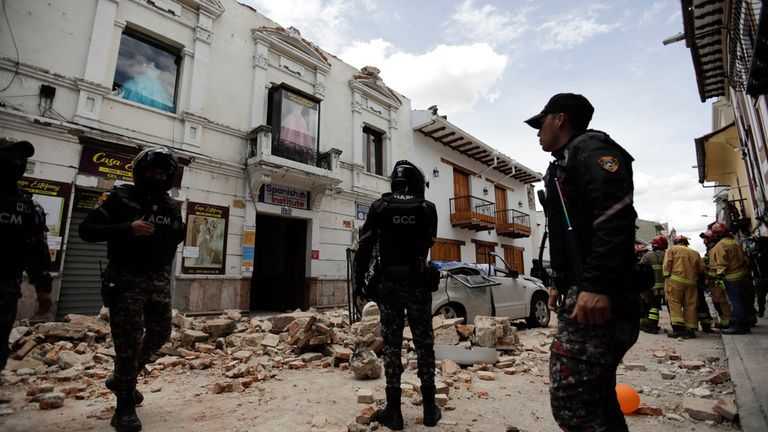 A report from the Adverse Events Monitoring Directorate ruled out a tsunami threat in the South American country.
Ecuador is prone to earthquakes: In 2016 more than 600 people were killed in a quake centred in a more sparsely-populated part of the country further north on the Pacific Coast.